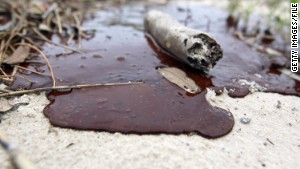 (CNN)
-- A federal judge signed off on BP's settlement with businesses and people hard hit by the 2010 oil spill in the Gulf of Mexico.
U.S. District Judge Carl Barbier in New Orleans issued a 125-page ruling Friday night on a class-action suit. He gave the settlement preliminary approval in May and overruled questions and criticism of the agreement in his Friday ruling.

2010: BP: Oil flow has stopped
BP has estimated a settlement of about $7.8 billion paid from a $20 billion trust. Thousands of businesses and individuals made claims in Louisiana, Mississippi, Alabama, some coastal counties in eastern Texas and western Florida and adjacent Gulf waters and bays.
With the exception of seafood claims, there is no cap on the amount BP will pay to those who agree to the settlement.